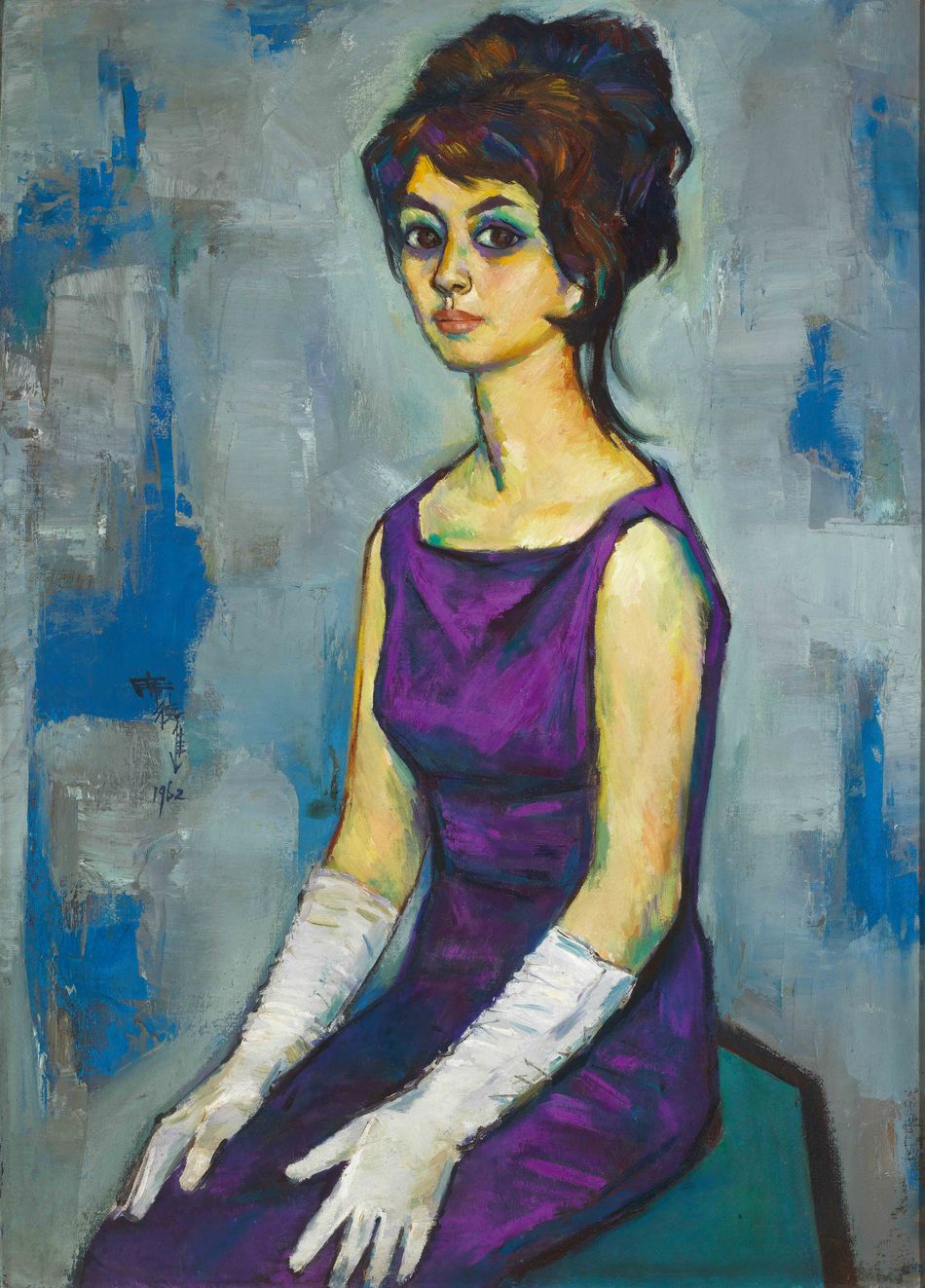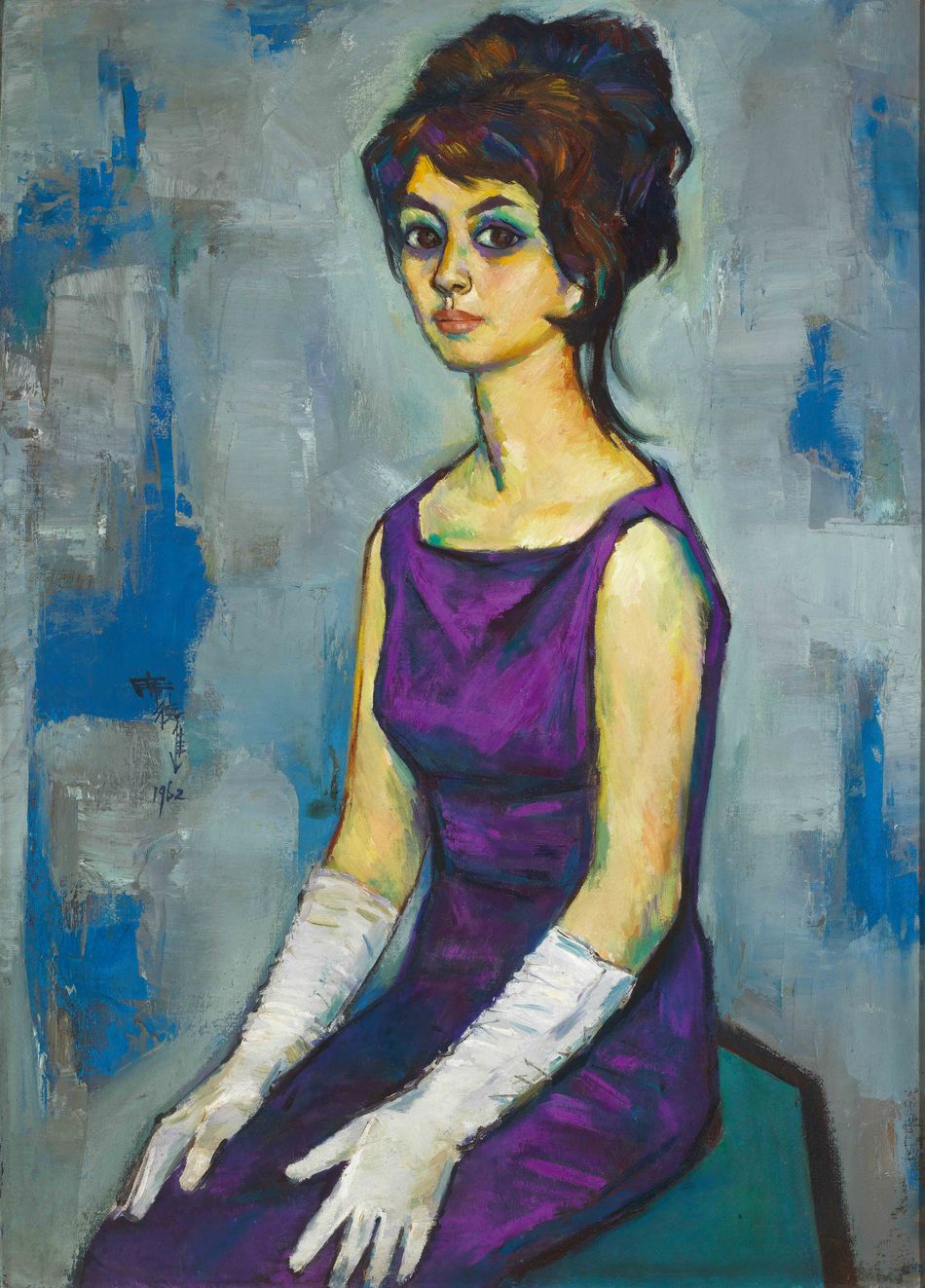 Estimate
TWD 4,000,000-6,000,000
HKD 1,087,000-1,630,000
USD 139,100-208,700
CNY 891,000-1,336,000
Sold Price
TWD 8,040,000
HKD 2,149,733
USD 273,656
CNY 1,827,273
---
Signature
Signed center left SHIY De Jinn in Chinese and dated 1962


PROVENANCE
Longmen Pottery, Taipei Private collection, Taiwan
圖錄: 《皇冠雜誌編號249:第四十二卷第三期》,皇冠雜誌社,台北,1974年11月,封面作品
+ OVERVIEW
"Life as vibrant summer blossoms and death as undisturbed autumn leaves." As a nostalgic artist, Shiy De-jinn painted the bountiful and prolific side of life in his paintings.



Shiy De-jinn was an artist for his living in 1955, an era when this career was a struggle for most. Art critic Hsiao Qiong-rui described Shiy as the most successful in Taiwan. Shiy produced portraits for clients and proactively painted for his friends, including prominent figures in the art world of the 60s and 70s. These figures include poet Chou Meng-tie, author Cao You-fang, Hua Yan, Tang Bao-yun, artist Lee Te, Wu Hao. This work, Lady with Gloves, is one of the portraits completed in the period.



The 1950s was the period when artists from Hangzhou School of Art dedicated their life to pottery design and production after their relocation to Taiwan. Shiy was among these artists and produced sketches for these pottery factories. His works were so popular that his monthly salary exceeded that of the president at the time. He often participated in solo and joint exhibitions during this period. A label of Longmen Pottery company at the back of this work marked such a background. In the era with intense exposure of Western culture, Shiy experimented with new styles that enlivened the local artist circle. His unique approach in abstract art and his reference from Bernard Buffet enabled Shiy in his unique depiction of fine details with stark bold lines. This makes him a unique artist of the times.



"Realistic depiction is enjoyable; while painting abstract is thrilling." - Shiy De-jinn



Portraiture has always been Shiy's specialty as he was known by this genre in his early days. His self-portraits mark the history of Chinese art. As he wrote about portraitures, "A photograph shows the form of a man in the split second. A portrait shows a person through an artist's eyes and subjective perspective under a long period of observation. Such representation is complex and complete. A successful portrait captures the personality and habits of a person. An experienced artist, similar to a fortune teller, would use his brush to tell the story of your life." Shiy's most famous work was Boy in Red, completed in 1962. Such portraits took the Taiwanese art scene by storm and become a precious memory of the time.



Despite the limited availability of resources in the 60s and 70s, Shiy used the highest quality imported paints ordered from friends abroad. These paints gleam in decades on canvas, showing his dedication in art. This work was completed in 1962 depicting a composed lady in a gown. Similar sleeveless gowns and tailored Qipao gained popularity following the bloom of the clothes manufacturing industry in the 60s and the 70s. The hairdo, clothes and accessories reflect the image of a fashionable icon of the times. The simplistic abstract background enhances the bold linear representation of the model, forming a perfect balance between realistic and abstract composition. To Shiy, portraits are not equivalents of the photos, but an evolution with the subjective perspective of the artist and a representation of the person's character. This forms a timeless artwork pursued by the artist.




Modern & Contemporary Art
Ravenel Spring Auction 2022 Taipei
Sunday, June 5, 2022, 2:00pm